Master Programme Biotechnology
Begin of page section: Contents: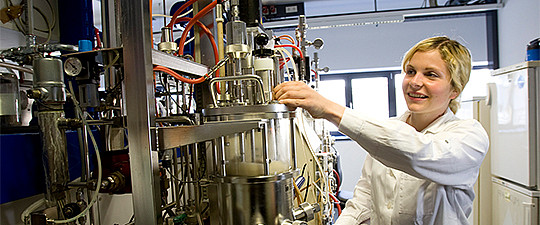 As one of the key technologies of the century, biotechnology utilizes biological systems for the realization of applications in industry, agriculture, environment and medicine. The strongly interdisciplinary oriented study programme focuses on the development of competences for the set-up of bio systems by molecular engineering strategies as well as on a profound education to gain expertise for development and operation of biotechnological processes and applications. Current issues and future oriented subject areas in the fields of molecular biotechnology, bioinformatics, environmental biotechnology and food technologies, enzyme technology, biocatalysis and bioprocessing technology are core topics of the biotechnology master programme.
NAWI Graz Master Programme Biotechnology
The NAWI Graz master study programme in Biotechnology lasts four semesters and is entirely taught/instructed in English. The master's degree is based on the NAWI Graz bachelor programme "Molekularbiologie" or "Chemie" (with specialization in biosciences) or an equivalent bachelor programme of at least 180 ECTS and comprises 120 ECTS credits. Graduates are awarded the degree of "Diplom-Ingenieurin" (female) or "Diplom-Ingenieur" (male), which is internationally equivalent to a "Master of Science" ("MSc").
Job description (Working as a biotechnologist)
Graduates have job opportunities in the fields of industrial biotechnology, pharmaceutical and chemical production using bio-based processes, pharmaceutical and biomedical research, food technology, environmental biotechnology, agricultural sector, R&D institutions and public authorities. Graduates of the master programme "Biotechnology" possess problem solving skills in R&D, can plan and conduct experiments using state of the art methods and are capable of critically analysing and interpreting experimental data.
Academic year 2022/23 and 2023/24: There will be no individual admission procedure. General admission requirements will be assessed.
Admission to this joint master study programme is either possible at TU Graz or University of Graz:
TU Graz
University of Graz
End of this page section.
Go to overview of page sections.