Master Programme Geosciences
Begin of page section: Contents: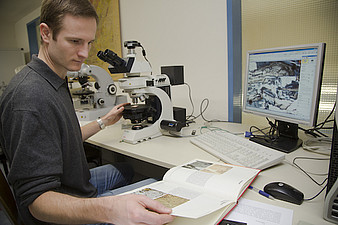 "Unique in Austria: Institutes of TU Graz and Uni Graz in Geosciences and Geotechnical Engineering have further deepened their cooperation within the NAWI Graz Geocenter. The center's objectives are to make best possible use of synergies and to further develop its disciplines jointly.
As one result of this process, the master study programme was relaunched in order to integrate the high level of expertise of the NAWI Graz Geocenter. The new "Geosciences" programme thus covers a wide range of disciplines, including Geology, Palaeontology and Stratigraphy, Petrology and Geochemistry, Mineralogy and Hydrogeochemistry, Hydrogeology, and Engineering Geology. Moreover, the programme was converted to be taught in English exclusively.
Graduates will be awarded the academic degree of a "Master of Science" ("MSc").

NAWI Graz Geocenter – Expertise to the Power of Two

"Geosciences" is offered as a joint program by Graz University of Technology and the University of Graz within the framework of NAWI Graz and the NAWI Graz Geocenter. For students, this means benefiting from the top performances and expertise of two universities – an opportunity unique in Austria!

Career Opportunities

Graduates have job opportunities in a variety of industrial sectors as well as in corporate or communal environmental management or in local or central government. Possible working areas include:
Research and development;
Different branches of industry (construction, chemistry, materials);
Consulting engineers;
Environmental, resources and water management;
Public/governmental organisations like museums or administration.
Academic year 2022/23 and 2023/24: There will be no individual admission procedure. General admission requirements will be assessed.
Admission to this joint master study programme is either possible at TU Graz or University of Graz:
TU Graz
University of Graz
End of this page section.
Go to overview of page sections.
Begin of page section:
Important Links:
Curriculum Master Geosciences (original German version)
Curriculum Master Geosciences (English translation. Please note that only the German version is legally binding.)
End of this page section.
Go to overview of page sections.