Master Programme Technical Chemistry
Begin of page section: Contents: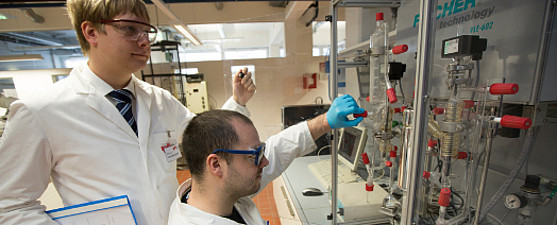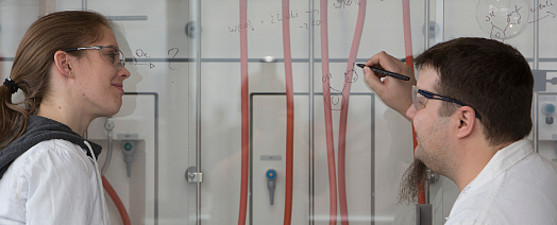 The engineering sciences master study programme in Technical Chemistry lasts four semesters and consists of one stage of study. The entire master's degree is based on a bachelor degree programme and comprises 120 ECTS credits. The language of instruction is English.

In the master study programme, the following subject areas are focused on:
Renewable Resources
Macromolecular Chemistry and Technology
Inorganic Materials and Electrochemistry
Graduates are awarded the degree of "Diplom-Ingenieurin" (female) or "Diplom-Ingenieur" (male), which is internationally equivalent to a "Master of Science" ("MSc").

Working as a Technical Chemist
The idea of a chemist who works alone in the laboratory producing different reagents and mixtures has given way to the reality of research management also in the field of technical chemistry. More than ever before, scientifically trained skilled personnel have to work together on the testing and utilisation of developed materials. The occupational field has considerably expanded, not least due to this application aspect.
Chemists make important contributions to progress in the field of computing by continuing development of conductors and semiconductors. They work on improving construction materials and provide challenging solutions in architecture and the construction industry. Innovative solutions have also been made in projects dealing with exhaust-air treatment in road tunnels in Graz. Chemistry graduates can work as specially trained poison prevention officers in mineral metallurgy and other highly sensitive fields. The development of new drugs and disinfection methods counts among the classical fields of work of chemists as does environmental technology: from waste management, containment of contaminants, urban water management, plastics and climate engineering to recycling.
Academic year 2022/23 and 2023/24: There will be no individual admission procedure. General admission requirements will be assessed.
Admission to this joint master study programme is either possible at TU Graz or University of Graz:
TU Graz
University of Graz
End of this page section.
Go to overview of page sections.